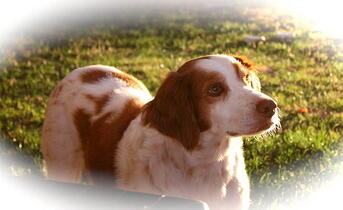 Calvin Harrington came to me via the NBRAN rescue.
It was love at first sight and he and I became best friends.
I lovingly referred to him as my Cartoon Dog as he always
could put a smile on my face doing something silly. He made
me fall in love with the Brittany breed, resulting in me fostering
and helping to place two other Brittany rescues. He was the
sweetest and most beautiful boy. And don't tell me you can't teach
an old dog new tricks. At 7 years old, with only "roll over" as
a trick - he took and passed Beyond Obedience Class, CGC
and went on to pass his Therapy Dog Class. On the heels
of passing his Therapy Dog test he was diagnosed with brain
tumors and went on a fast decline. My sweet dear boy is now
being a Therapy Dog over the Rainbow Bridge. He broke my
heart because he stole it from the start. He will forever be in
my heart. Thank you Susan Guthrie for bringing us together.
Mom