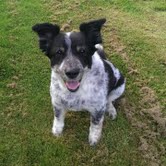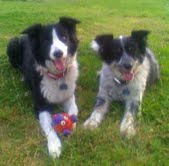 Ozzi...03/06/2002 - 05/11/2014 -Undoubtedly the world's great est dog! An unbelievable and irreplaceable part of my life. He never cared where we were or what we were doing, so long as he was by my side and we were together. He never left my side through my mothers death. He remained there through his brothers death. He went to bed each and every night with me through one of, if not the toughest relationships I've ever endured. Providing me with hope and promise, giving me something to hold onto, reassuring me everything would be okay. He stayed with me long enough to make sure I'd be safe in my new place.
Then in his own way he let me know it was time for him to leave and I was going to have to go it alone. Because he had done all he could!
I truly believe my mother, having wisdom beyond her years knew I was going to need one good thing in my life to count on that would NEVER let me down and more importantly to love for an eternity... which I'm sure is why she purchased him from the Enumclaw pet store all those years ago. Perhaps keeping an unspoken promise to her, that he'd look after me and do all he could for me when she was no longer able to.
Ozzi & Ozzborn will always be my baby boys, pride & joy!!!
Daddy loves you boys and we will always be together!