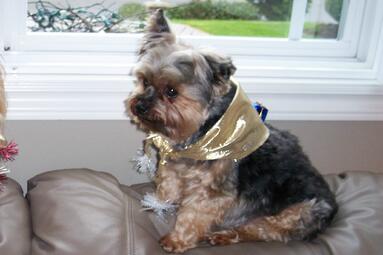 Fri, 11th February, 2011
Born 1-15-2001 Passed: 2-10-2011
Buster joined our family on September 4, 2001 in Tampa Florida. When we were trying to make our selection between Buster and another Yorkie, he decided to take control and climbed up into his Daddy's lap and put his paws around his neck. Decision made, we were totally in love. Buster was a very non-assuming boy, a bit shy and totally under the rule of his big sister Daphne.
Buster would always wake his Mama up by crawling up on the bed and jumping on her stomach. If that didn't work, he would paw at her until she got up and took him out to do his business and fix his breakfast.
He loved to lay on the couch in the family room (no one was able to sit there as this was his spot). When he got thirsty, he would look over at his Daddy and then at the water bowl and that was a sign that his Daddy needed to get up and give him a drink of water.
We loved our little love bucket, Buster. He was the light of our life and he will live in our hearts forever.